A Glossary for Research on Human Crowd Dynamics
Abstract
This article presents a glossary of terms that are frequently used in research on human crowds. This topic is inherently multidisciplinary as it includes work in and across computer science, engineering, mathematics, physics, psychology and social science, for example. We do not view the glossary presented here as a collection of finalised and formal definitions. Instead, we suggest it is a snapshot of current views and the starting point of an ongoing process that we hope will be useful in providing some guidance on the use of terminology to develop a mutual understanding across disciplines. The glossary was developed collaboratively during a multidisciplinary meeting. We deliberately allow several definitions of terms, to reflect the confluence of disciplines in the field. This also reflects the fact not all contributors necessarily agree with all definitions in this glossary.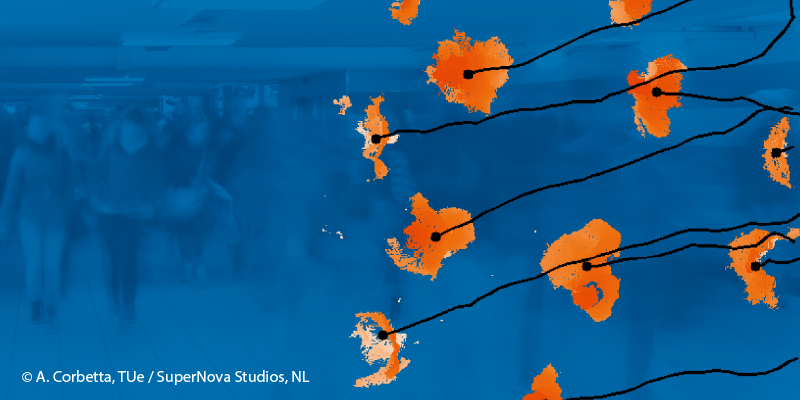 Downloads
How to Cite
Adrian, J., Bode, N., Amos, M., Baratchi, M., Beermann, M., Boltes, M., Corbetta, A., Dezecache, G., Dezecache, G., Drury, J., Fu, Z., Geraerts, R., Gwynne, S., Hofinger, G., Hunt, A., Kanters, T., Kneidl, A., Konya, K., Köster, G., Küpper, M., Michalareas, G., Neville, F., Ntontis, E., Reicher, S., Ronchi, E., Schadschneider, A., Seyfried, A., Shipman, A., Sieben, A., Spearpoint, M., Sullivan, G. B., Templeton, A., Toschi, F., Yücel, Z., Zanlungo, F., Zuriguel, I., van der Wal, N., van Schadewijk, F. ., von Krüchten, C., & Wijermans, N. (2019). A Glossary for Research on Human Crowd Dynamics. Collective Dynamics, 4, 1–13. https://doi.org/10.17815/CD.2019.19
License
Copyright (c) 2019 Nikolai Bode, Alessandro Corbetta, John Drury, Enrico Ronchi, Federico Toschi, Armin Seyfried
This work is licensed under a Creative Commons Attribution 4.0 International License.
Authors contributing to Collective Dynamics agree to publish their articles under the Creative Commons Attribution 4.0 license.
This license allows:
Share — copy and redistribute the material in any medium or format
Adapt — remix, transform, and build upon the material
for any purpose, even commercially.
The licensor cannot revoke these freedoms as long as you follow the license terms.
Authors retain copyright of their work. They are permitted and encouraged to post items submitted to Collective Dynamics on personal or institutional websites and repositories, prior to and after publication (while providing the bibliographic details of that publication).